Okay so you finally made it here, this means you have an interest in
creating a classifieds website for automobiles
. Keep in mind that this post is the first part of a series on creating many kinds of classified websites but I'm starting with auto-classifieds since we've seen a lot of demand on creating this kind of website.
An auto-classified is a website that allows users to post their cars or automobiles for sale or for rent to show them to other users who could be interested in buying or renting them. This could also work for any dealer who wants to sell vehicles through the website. I will be showing you a step-by-step guide on creating an automobile website using
Yclas
as a platform since it has many tools that would save you time and money.
I will also be going through the first steps which are standard for creating any classified website regardless of its purpose because those steps are necessary and have to be done before you get your idea going.
1- Get a domain name
When you think of a good name for your website I recommend that you book it as soon as possible because you never know when someone else thinks of the same name or the same idea. You have many domain registrars out there but I prefer using
Namecheap
because it's cheaper than others, it's user-friendly and I already had a good experience registering my domain there.
2- Register a website with Yclas
Go to
Yclas homepage
and register your free domain there, the name you choose here doesn't matter since we will be using the domain name you picked in step 1 later. You can do this step by typing in your e-mail and any name on the domain. Remember that steps 1 and 2 can be done in any order and you don't need to do one after the other.


To be able to link your custom domain name you need to get either a start-up plan or a professional plan with Yclas, once you're done with the upgrade link your custom domain to your Yclas account. Note that this could take from 24 to 48 hours to take effect.
Once you're at this stage you can go to your domain and you will find the basic starting view of a Yclas website.
3- Pick your preferred template
Yclass offers
many templates
you can choose from for your website, keep in mind that you can also change the colors, fonts, the look and feel depending on which template you're using.

My favorite template for auto-classifieds is CZSale since it shows the car in a big photo in the middle and would get users attention, but the picture in the slider might stretch some cars, so I would recommend using the CZSale if you're making the site to be used by a dealer; this way the dealer can control the quality of the images uploaded.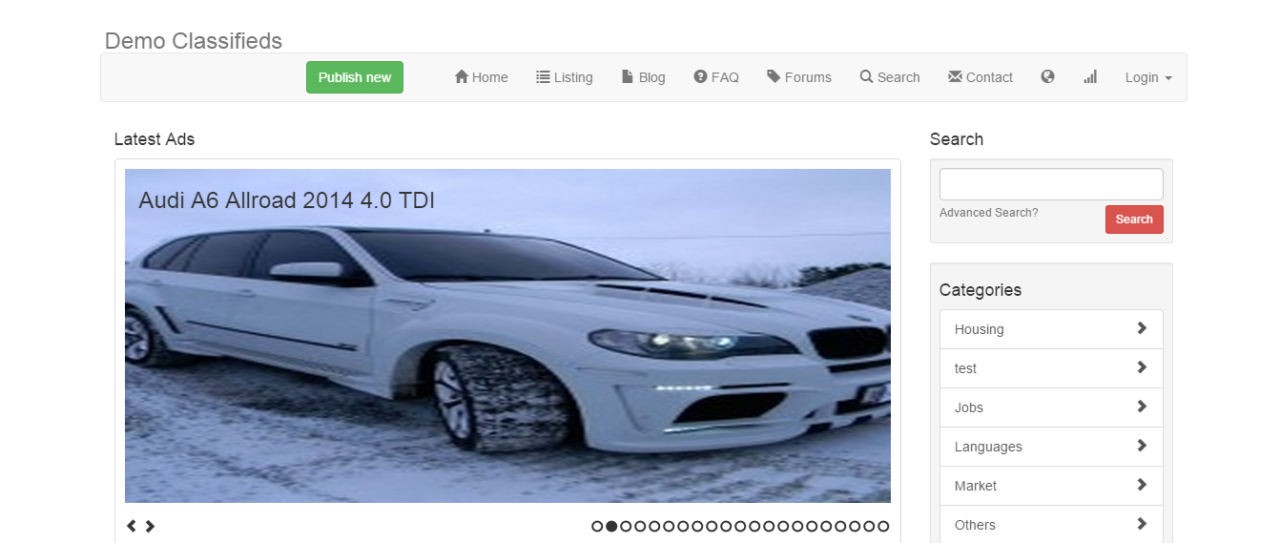 My second choice would be the Kamaleon theme due to its customization potential, but you can pick whichever theme you want since you already have a paid plan with Yclas so you have access to all themes.

4- Setup categories and locations

Right now you can go to your website administration panel and add any locations depending on the area your website is focusing on. So for example, if you're focusing on Spain as a country it would be best to add the regions within Spain as locations and the cities in those regions as sub-locations.




Categories define the way you want listings on your website to be organized. You could either go with just two main categories for instance "for sale" and "for rent" or you can be more creative.

5- Adding custom fields

Normally this takes a lot of time and effort from you if you would be using any platform to create your automobile website, but with Yclas you get a pre-defined set of custom fields that you can add in less than two minutes.


You can do that by following those steps:
login to your admin panel
Go to settings > custom fields
From custom fields templates pick "cars"
Click on create
And now you will notice that many custom fields appeared and were created instantly. Those fields are not set to any category, so any user would see them when posting an ad.
The pre-defined set of fields we have prepared, are based on a standard automobile classifieds website, for instance, if a car is being sold by a dealer or a normal user, make, model, and so on are now already on your site.

Those fields will show up as soon as you add them and the process is that simple if you prefer adding those custom fields into your "motors" category, then you need to put that category in its field before you create the fields as shown in the screenshot below.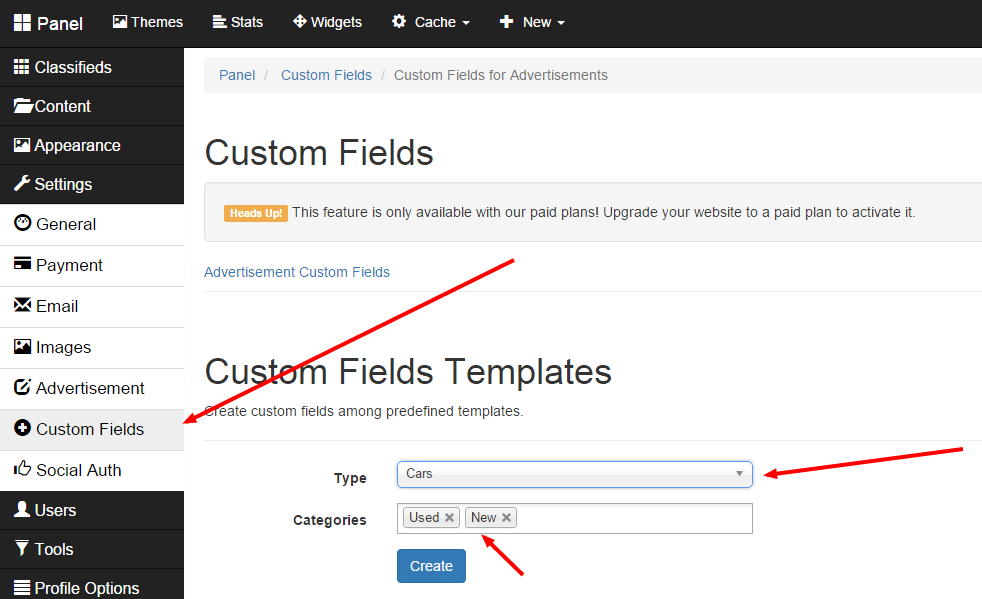 6- Add icons, logos and images

Any user coming to your website now won't recognize that it is an automobile classifieds website until you show them that it is. You can do that by adding some images related to cars or automobiles as banners on your sidebar or homepage. This is all up to you and how you want your website to look when your users come and visit.


After you're done with all steps your website is now ready for the big launch and you're all set, depending on the idea you have in mind you might want to set up how you receive payments or you could leave it till later. To know more you can read the guide we prepared on how to set up payments for your website.
Feel free to leave your opinion and comments in the section below. I wish you the best of luck with your online business idea.