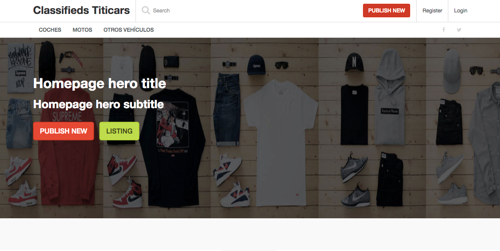 As you know, Yclas' mission is to help you have a professional website where you can publish your classifieds online.
This is why we offer you a wide variety of templates, each one with a different design and style.
We are aware that when it comes to website designs, trends often vary. At Yclas we continuously work to offer you new and better templates, not only to ensure that you find the one that best suits your style and needs but also to ensure that your classified ads page fits the demands of the market.
Titi
This time we want to introduce you to the Titi Template. This one has a modern and very dynamic design that, without much effort, manages to give a lot of visibility to your classifieds.
Its main features include the following ones:
It allows displaying of any amount of ads on the home page.
Option to set the HTML that appears only on the home page.
Toolbar and sidebar.
Banner and banner at the footer of the page with your social networks (it allows HTML).
Random banner in a listing.
You can choose among three different colors for the template: blue, green, and orange.
It allows you to upload a logo, favicon, apple-touch-icon,, and a profile picture.
Remember that you can change the template whenever you want without extra cost. So, if a different look is what you're looking for, then click here to see what Titi Template can do for you and your business.